French Montana & Drake Drop New Song 'No Stylist'
Posted on September 20th, 2018
by Lupe LLerenas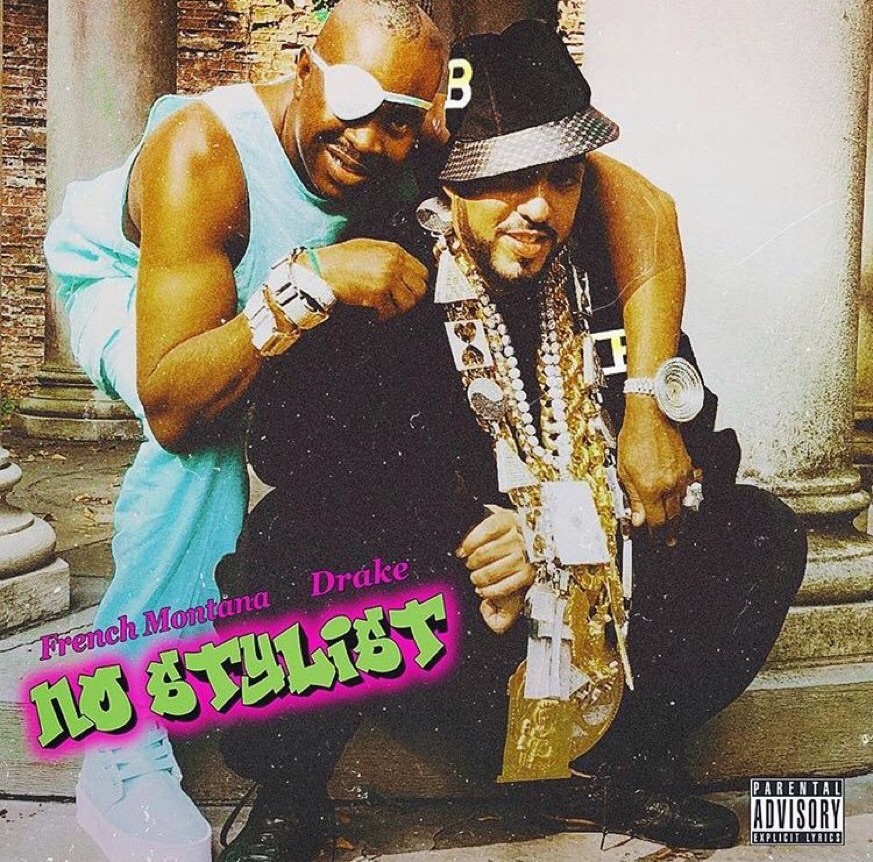 It's finally here! French Montana and Drake's collaboration "No Stylist" has arrived.
The New York rapper took to Instagram to show off the official cover art as he wrote:
"LIVE FROM WHERE EVERYTHING STARTED 👌 ITS ABOUT THAT TIME 🔥 HAANNNNN !! My official single #NOSTYLIST coming out this Thursday, Sept 20 ft. My brother @champagnepapi."
Posing to the side of Slick Rick, who was also spotted at the music video shoot, French rocks about a hundred pounds in jewelry as he smiles in the "Fresh Prince" style shot.
Check it out the song and excerpts from the interview below and let us know what you think.
French Montana on 'No Stylist'
I actually came to Miami when he [Drake] was working on his album. I just played him my music from my album, and he heard "No Stylist" and fell in love with it and he was like 'this is the one you and me should come out with'. I remember I came to Miami, it was me, him and Bad Bunny. We was at my boy Dave's place, a bunch of ladies, a bunch of you know Miami vibes. You know Miami vice vibes. And it was just the energy, you know. Some people make music but you could tell they're not friends we make music and me and him kind of like the same things in life you know what I'm saying, we from the same era, so it just came together. 
French Montana on Drake: 
I be trying to catch him, he on the road I be on the road but every time we get tougher we gotta make sure we do at least one that's gonna be classic you know for the youth out there. Show that bond cause I knew my brother since I started, he was on my first single "Pop That" and before that he was on "Stay Schemin'" with me and [Rick] Ross so it's like when we make music it's more of a brothership. I mean with people like us at this level of our career like we don't do stuff for money anymore. Where we at now is  morelike we don't do stuff unless we love it unless it feels right. But I love that I'm in that space that we can make classic music. We always come together once a year and do one of those special ones you know. 
French Montana on the Video for 'No Stylist':
See it's this thing with me being from the Bronx, where hip hop started the mecca of hiphop,I always felt like it got overlooked when it came to fashion. And I feel like people that changed fashion was the icons that we looked up to like Slick Rick when he came out with 40 chains on all the vintage looks and even brings it up to date. When Cam'ron came out with the pink Mink and everybody you know it's just people that changed culture because everybody thinks if you go to Fashion Week you know how to dress. That's not, there's ninety nine point nine people out there that don't go to Fashion Week they could dress better than anybody on that runway.We want to give that dope boy on the corner. You know that do whatever he do just the buy the outfit you know what I'm saying the people that really know how to dress because they don't have anybody to dress them and that was my whole thing with it. You know so we went to the Bronx and we shot the video, it has Slick Rick and the old school car with the Louis Vuitton seats and the Gucci seats. We had Cam'ron. Dapper Dan when he used to have his boutique people used to go to him because he knew how to put certain looks together that they couldn't even do for these big brands. 
Zane: Oh those Erik B and Rakim covers thats used to put Dapper Dan on changed the game.
French: Yeah when they had Erik B in the back in the Gucci and all that with Dapper Dan. I did a full hour with Dapper Dan you know interview, just trying to give the streets back the power.