Snoop Dogg Talks New Gospel Album, Martha Stewart, Madonna & Tupac With Howard Stern
Posted on May 16th, 2018
by Wanna Thompson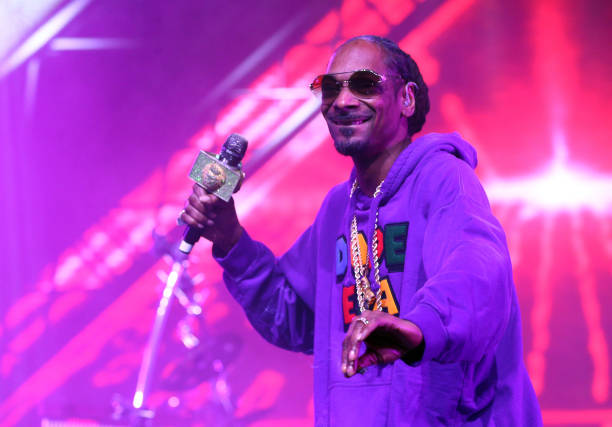 In a new interview with Howard Stern, esteemed West Coast rapper Snoop Dogg stopped by to promote his new gospel album Bible of Love and recounts some pretty legendary moments with Martha Stewart, Tupac and Madonna.
While hosting a gig for SNL in the early 90's, Snoop mentions that he hit up 2Pac for a "big bag" of weed, only to meet the "Like A Virgin" singer during the exchange.
"She looks at me, I look at her. I say, 'Oh wow. That's Madonna.'"
Keeping up with theme of revealing celebrity encounters, he tells Howard Stern that he shared his first blunt with 2Pac after meeting Shakur at the wrap party for the John Singleton film, Poetic Justice, which 2Pac starred in.
"I smoked my first blunt with 2Pac," Snoop told Howard. "I'd never smoked a blunt before. I was smoking joints."
Sticking to nature of this candid interview, Snoop Dogg expresses his gratitude for Martha Stewart citing, "That's my homegirl." The two stars have a rather unorthodox relationship but prove that opposites attract. The pair bonded in 2008 after Snoop appeared on Stewart's daytime television show "Martha" in 2008. After this, the rest was history. During Justin Bieber's Comedy Central Roast in 2015, Snoop revealed that he shared more than admiration with the DIY-Queen.
"By the time she gets up there to tell her jokes, she's whacked out of her head but she steals the fucking show," Snoop told Howard. "She was loose as a goose, high as a motherfucker, and she went up there and killed it."
The duo would go on to create more exciting moments on-screen in the VH1 series Martha & Snoop's Potluck Dinner Party, which debuted in 2016.
Another fascinating take away from this interview was Snoop applauding pop-singer Katy Perry for her 2010 hit, "California Gurls". He let it be known that Katy wanted to make something for the West Coast after Jay Z and Alicia Key's held it down for the East Coast with 2009's "Empire State of Mind".
"I thought that was gangsta that she felt that way,"