Posted on May 16th, 2018
by Christian Emiliano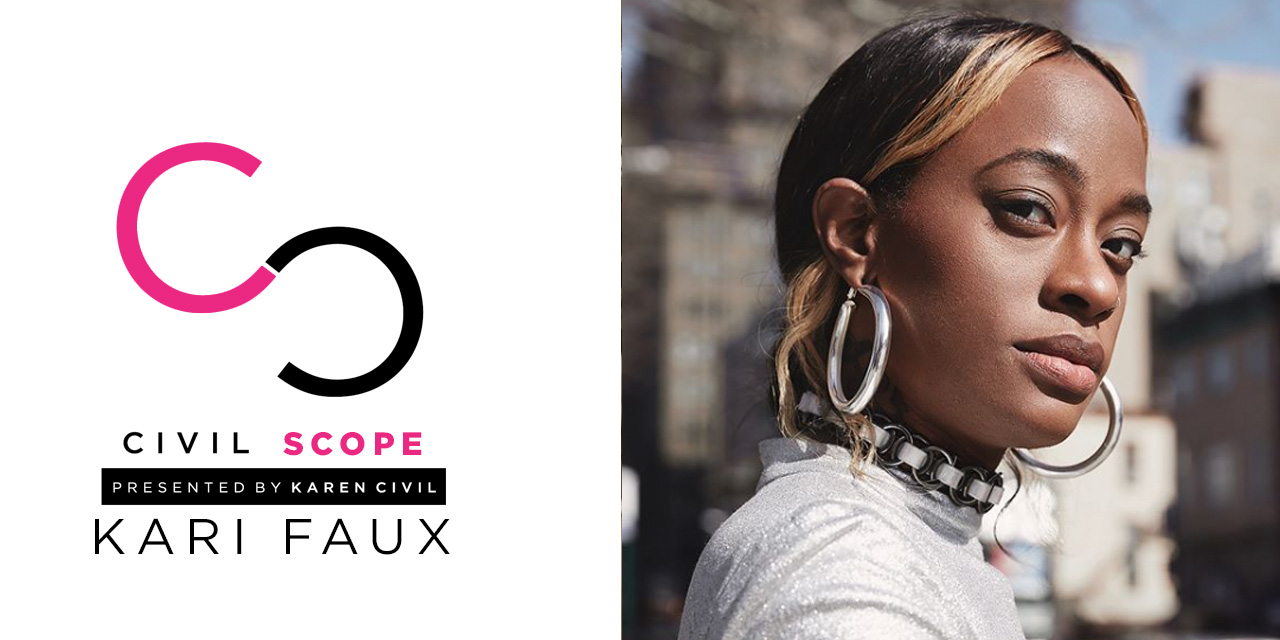 If you aren't familiar with her yet, Kari Faux might come across as a weird stage name for a woman who has built a following around being apologetically real. At 25-years-old, the Little Rock, Arkansas born artist has had her share of ups and downs in the industry already. While that might hinder some, Faux has used the experiences to make some of the best art of her career and push her brand into even more directions. Kari is by no means new to the industry — back in 2012 she was releasing mixtapes like City Limits and Sophisticated Rachetness, followed by No Sleep Til Atlanta the following year. In 2014, Faux dropped her project Laugh Now, Die Later, which gained the attention of artist Chlidish Gambino. Gambino (alias Donald Glover) remixed Faux's "No Small Talk," and featured it on his own mixtape, STN MTN.
Last time we talked you was working on your 'Los En Los Angeles' project. How was the feedback from your fans and what do you feel you was able to showcase with your artistic abilities?
KARI: The feedback was good. I feel like most people didn't really, I mean outside of the people who was already into my music and didn't catch on until Insecure, but once Insecure put a lot of those songs in the show the feedback was really good. Also it's like, that sound is different from my mixtape, but its not …music prior to that mixtape cause I've had seven mixtapes out before that one, it's was the same and I went back to the shit that I was making before. It's wasn't too different to me, it was just always the stuff I wanted to make. Because it's my album I'm going to make what I want to make.
Do you feel people had a pre-concieved opinion of you based off of 'No Small Talk'?  That they think that's the only sound you could do? Did you have any fears around that?
KARI: Yes, definitely. Because the thing is 'No Small Talk' was something that I just did for fun and it took a life of it's own and I honestly for awhile I didn't want people thinking this is type of music I want to make. I make that kind of stuff but that's not all that I am. Damn this is all that people want from me and there are a lot of other songs that people like that don't have the same vibe. When I realized that there are other songs that people gravitate towards that weren't the direction and then I understood people fuck with the music and fuck with me so I'm not like a one hit wonder. I got over that fear and honestly if I continue to make the stuff that I want then people are going to like it. If people are real then people are going to fuck with it.
When 'No Small Talk' came out, you said that Drake reached out for a feature, is it a particular reason why you turned him down?
KARI: I wasn't ready for a Drake feature. That's the thing, and I didn't want a bunch of remixes of my song also. Everyone was remixing the same song over and over and the song is like damn you don't even like it anymore. Also, I wanted to be in control of my trajectory and my career and I feel like his feature would've me in a….i wasn't ready I'll just say that. That was a decision I had to make just knowing the type of person that I am because the situation of moving to LA and all of that it was so many drastic changes that happened in short a period of time and then a Drake feature? Nah, I'm barely getting adjusted to the situation that I am in now. So a Drake feature would have made me a one hit wonder forreal and I'm going to pass. Him reaching out made me feel like I have something special and it's just about knowing I have something special when people I admire like my music.
How did all of your Insecure placements come about?
KARI: Issa just reached out.
It was just that easy?
KARI: Yeah, we follow each other on Twitter and she gave me her number. This was before the show was done. We got dinner one time and we hung out. And when the show was coming out she was like I love your album and I want you to do some music and I was like okay, cool.
Your last project was 'Primary', what was the message you wanted to tell with this project?
KARI: The things is, basically I wasn't with my management anymore and I had moved back home and honestly I was like I don't have shit anymore. So that project was just really me going back to the basic. It's just me in my room, making music. Friends would send me beats and I would like say what I had to say and how I felt and I was going through a lot of shit and I was like you know what? Fuck everything. I'm going to live with my parents and figure it out. And that was a very honest body of work. It was honest as fuck because I didn't have shit to lose. I just put it out, didn't have budget, no PR, no nothing, and  a lot of people fucked with it and that's the type of shit that I want to make. It made me happy because people fucked with the direction I wanted to go in, like a lot of people said this was their favorite project from you and I'm like really? Okay cool cause it's going to get better.
I know you walked your first New York's Fashion Week for Pyer Moss, how was that?
KARI: It was so much fun. That was the same way, Kerby Jean-Raymond who runs Pyer Moss hit me up and said do you want to walk in my show and I was like hell yeah. He was the homie and it made me feel like I want to do this fashion shit forreal. So hopefully I can do more stuff like that in the future.
So that's something you want to venture into? Like cosmetics? A capsule collection? Because you have a very distinct style and aesthetic with your brand.
KARI: I definitely want to do some capsule shit. Like I definitely want to design for a company that I fuck with and like collaborate with. That's on my bucket list to design for a company and bring what I like into their shit.
You are really big on numbers and astrology, does that affect your work ethic and certain projects that you work with?
KARI: Um, it's funny because I am spiritual but not in the sense of, it's actually funny because I'm not one of them flowers, got on a headband. Like I'm not one of them people and I am very spiritual and when people are around me and see me doing tarot or rituals and they like you really into this shit and I'm like yeah cause to me the planets do their thing and you can pretty much know like at this point of time I might want to chill with this, that and the third because if I go too hard. To me it's a tool to help guide myself through all of this and I don't be knowing what be going on half the time. And I'm an artist, I don't have a 9to5 and it just really just waiting on the universe and something got to shake and it always does. Numerolgy is really fire to me. The other day was a real bad day for me, like a whole lot of fuck shit was going on and I really didn't anitpicate the way it did and I kept seeing a sequence of numbers in different places and I looked it up and it was angel numbers and like um you know to stay focus and stay ground in the things you want to manifest and don't trip off the things that don't matter and don't give into the other shit. Focus on what makes you happy.
You have radio show right now? Do you want to expand on that?
KARI:  At first it was just me posted songs that I listen to on my Instagram story and I called it Real Bitch Radio and so like everyone was fucking with it and then my homegirl was like you should do a real show. I don't have a platform and I was making excuses and she was like no, you have your own audience. Feed your audience and everything will work with itself out. So I went and recorded an episode and put it on my soundcloud and people started fucking with it. NPS reached out and gave me my own show. I do some DJ-ing too and and making mixes under my alias Violet Waters
What else do you have planned for 2018?
KARI: I making an album, I don't know when it will come out. Im working and making stuff. I have shows. I'm doing Afropunk in October.
Do you have any ideas of what you doing for a set? Bringing out any guests?
KARI: Im pretty excited. I don't know if I'm bringing out anybody but I'm definitely going to make it a moment. I have never performed in Atlanta and I have so many people that want to see. I just have things I want to manifest. I wrote a tv show pilot. I want to put that into the universe. I wrote it with my friend, we sent it out to people, and that's all I have. Hopefully that works out and I really want to act and I will be staring it. I'm not even too caught up where it would live I just want it to happen. It's loosely based around my personality and who I am.