Remembering Harry Pace and Black Swan Records This Black History Month
Posted on February 7th, 2017
by Staff Editor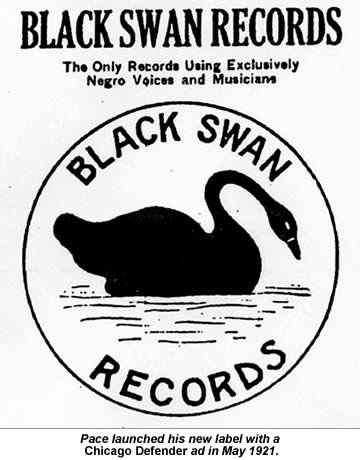 You've likely heard of Death Row, Bad Boy, Roc-A-Fella, Motown, Aftermath, Shady, Cash Money, Grand Hustle and so many other industry-changing record labels that til this day are still active, but have you ever heard of Black Swan Records?
Most folks don't know, but Black Swan Records was the very first black-owned record label in the history of music. The black-owned and operated label was established in Harlem, NY by Harry Pace, an African-American political activist, producer, writer, banker, and teacher, and operated from 1921-1923, producing over 180 records in that span.
The record label, named after British-American performer Elizabeth Taylor Greenfield who was known as "The Black Swan" was short-lived after having to declare bankruptcy in 1923 and eventually being acquired by Paramount. Though only in business for a few years, the impact of Black Swan Records was massive and deserves to be acknowledged.
Known for making "race records", the label proudly stamped "The Only Genuine Colored Records–Others are Only Passing for Colored." on every album cover. Talk about making a statement.
Pace was the definition of a polymath having his hand in multiple careers in different areas after graduating from Atlanta University. Harry partnered with the iconic W.E.B. Dubois for The Moon Illustrated Weekly, which was the first African-American illustrated journal. Soon after that, he met W.C Handy and the two began writing songs together establishing the Pace and Handy Music Company where they sold sheet music to white-owned record companies in 1912
As the Harlem Renaissance and African-American art and culture began to rise, Pace had the urge to expand his business, which resulted in him establishing the Pace Phonograph Corporation and the Black Swan Record Label in 1921.
Black Swan Records ran out of the basement of Pace's home and catered to a slew of artists including: Mamie Smith, Ethel Waters, James P. Henson, Don Redman, Gus and Bud Aikens, Garvin Bushell, Joe Smith, and Ralph Escudero. The company made an estimated $100,000 dollars before the aforementioned bankruptcy.
After the fall of Black Swan, the hustle continued for Pace. The entrepreneur went on to establishing the Northeastern Life Insurance Company, one of the most prominent African-American owned businesses in the northern United States.
So, while we spend the next few weeks (and the rest of the year) celebrating Black History Month and the countless black individuals who have changed the world, be sure to remember Harry Pace and his iconic record label Black Swan Records.