DJ Mustard Reveals Cover Art & Release Date For Debut Album '10 Summers'
Posted on July 22nd, 2014
by Staff Editor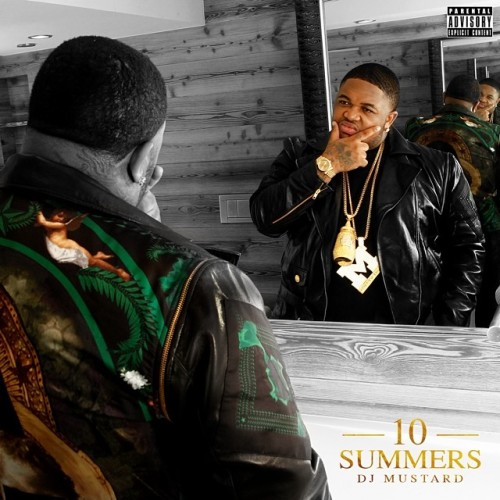 DJ Mustard has had an incredible year to say the least. After producing all of YG's debut album My Krazy Life, it's now time for Mustard to release his own debut 10 Summers. The Los Angeles super producer has announced that he will drop 10 Summers on August 12th and today he also reveals the official cover art. Mustard's feeling generous with this release too — he revealed on Instagram that for the first two weeks after August 12th, he will make 10 Summers available for free exclusively on Google Play. Nice.
What do you expect from Mustard's debut album? Let us know in the comments below.
Update: DJ Mustard has now reveled the tracklist for 10 Summers and it features Nippsey Hussle, Dom Kennedy, YG, Jeezy, Lil Wayne, 2 Chainz, Big Sean and plenty more. Check out the official tracklist below.
1. "Low Low" feat. Nipsey Hussle, TeeCee, and RJ
2. "Ghetto Tales" feat. Jay 305 and TeeCee
3. "Throw Your Hood Up" feat. Dom Kennedy, Royce, and RJ
4. "No Reason" feat. YG, Jeezy, Nipsey Hussle, and RJ
5. "Giuseppee" feat. 2 Chainz, Jeezy, and Yo Gotti
6. "Face Down" feat. Lil Wayne, Big Sean, YG, and Boosie Badazz
7. "Down on Me" feat. 2 Chainz and Ty Dolla $ign
8. "Can't Tell Me Shit" feat. IamSu! and AKAFrank
9. "Tinashe Checks In (Interlude)"
10. "4 Digits" feat. Fabolous and Eric Bellinger
11. "Ty Dolla $ign Checks In (Interlude)"
12. "Deep" feat. Rick Ross, Wiz Khalifa, and TeeFlii