Kodak Black Arrested at Canadian border on Gun and Marijuana Charges
Posted on April 18th, 2019
by Denver Lark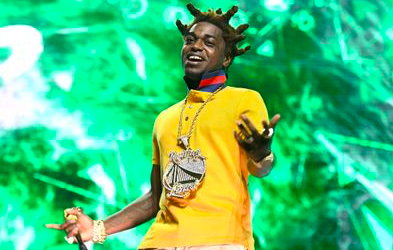 Rapper Kodak Black and three others were arrested after they allegedly tried crossing the U.S.-Canada border near Buffalo with guns and marijuana.
This caused him to be a no-show for concerts in Boston on Wednesday night, after he was stopped at the Lewiston-Queenston International Bridge, authorities said.
Kodak, 21, and Jeantony Saintmelus, 22, were booked on suspicion of criminal possession of a weapon and unlawful possession of marijuana, state police said. Stetson J. President, 24, and Madarrow D. Smith, 20, were booked for alleged criminal possession of a weapon.
Kodak was driving a Cadillac Escalade, with a temporary California registration, when he was stopped. The gun in the Cadillac was a Glock 9mm pistol, state police said.
Saintmelus was driving a Porche, and there were three guns and marijuana found inside that car, police said.
Kodak has now been released on $20,000 cash bond. As he was released he was seen covering his face with a lot of cash.
Photo Credit: Scott Dudelson / Getty Images