Pusha T Responds With His Side To Drake's Interview On Kanye & His Beef: "The information came from 40"
Posted on October 17th, 2018
by RK Jackson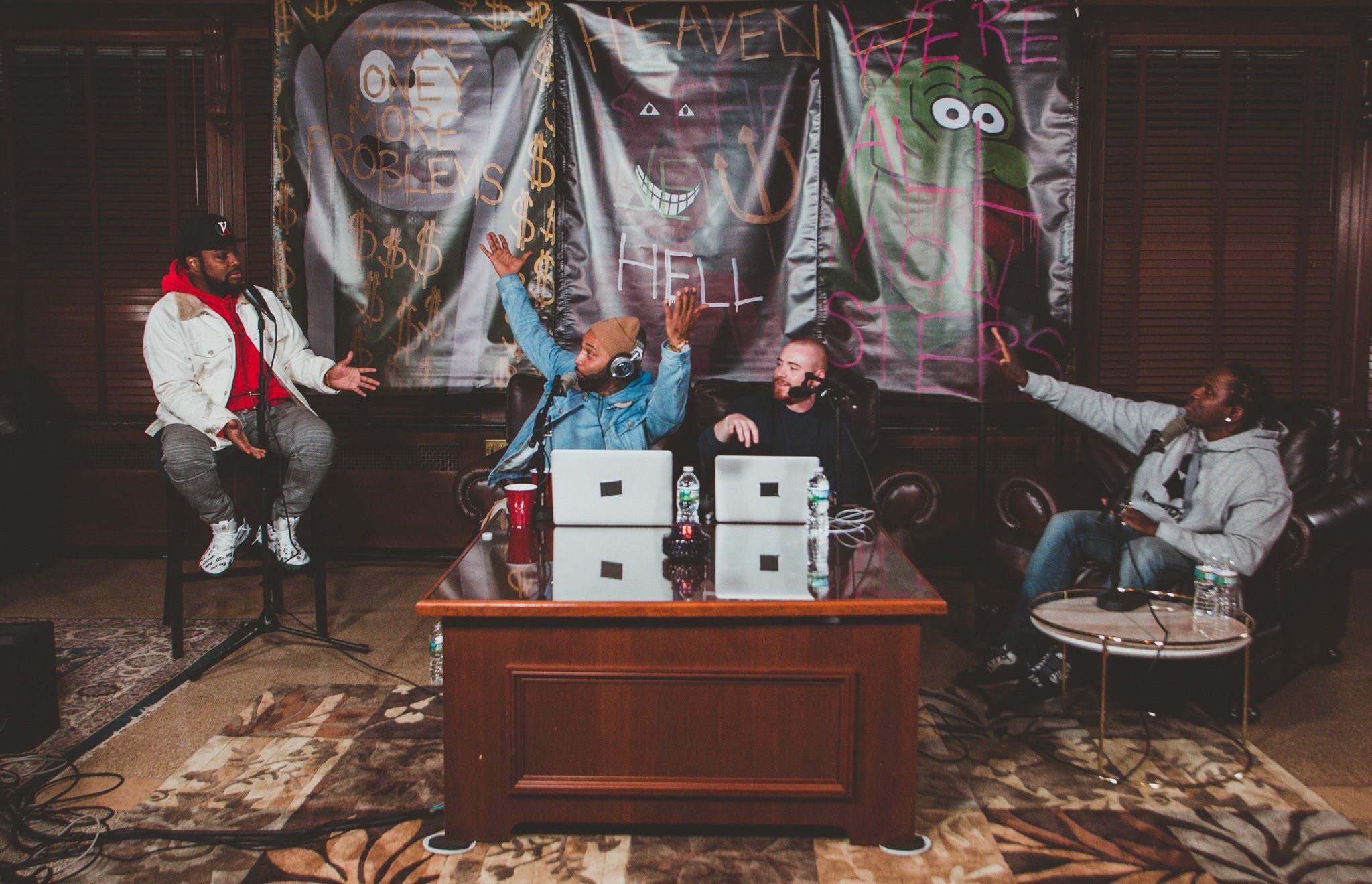 Pusha T joins Joe Budden's podcast to talk a myriad of topics including setting the record straight about what happened between Drake, Kanye and himself over the summer. Just Friday, Drake made an appearance on Lebron James' The Shop on HBO where they inquired on his take on beef and how he saw the incidents play out with from this year's surgical summer.
Joe asks Pusha if there are any rules in beef, and he replies "absolutely not." He details his upbringing on G.O.O.D. Music saying that he doesn't exactly remember when the beef started but claims it's been a "back and forth [with Cash Money] for a while now."
Rory and Mal bring up Ye's production credits on songs where Drake is going at Push and what it means to fight for the team and what he thinks of his portrayal on Lebron's show. "That particular episode, Maverick ruined the whole show for me, it wasn't authentic to me. The way he would ally-oop'd those questions to Drake it was just nuts-and on top of that, I just think it was biased, and you didn't even try to camouflage the bias. I just don't know how you could chime in so much and not mention 'Two Birds One Stone', Cudi's mental health issue, mentioning my wife, I just don't know how you could not say anything about any of those things.
"I didn't wish death on nobody. Not that I care, let's be clear. With that being the case, when I sit back and think about it, I don't like how the narrative has changed. I don't think it's fair. It may make sense in Drake's mind that 'Ye told Push my son, and my situation…I was in Wyoming…that's wrong, it didn't happen like that. Never happened."
Push continues with Joe saying if you know him, you know he's been disgruntled internally for a while and he believes Joe to know that and understand the truth which is why he's even speaking on this in the first place. "…They are [messy], I'm not neutral about one thing, I'm only about G.O.O.D. [Music] period. I'm about G.O.O.D. and I'm about my pride."
When it comes to the origin of his issues with Drake, he claims his 'Duppy Freestyle' actually cut his press run short and what he believes Drake to know about how he received info on his subsequent response 'The Story of Adidon'.
"The information came from 40," the G.O.O.D. Music president said in reference to Drake implying that Kanye West was the source. "It didn't come from Kanye, at all. 40 is sleeping with a woman, who begins to…he talks to her daily. Five, six hours a day…And ultimately speaks about how he's disgruntled about certain things, notoriety and things involving Drake and his career, and so on and so forth. With that also came the fact that Drake has a child. With that also came the trip that everybody took to go see the child, and bring him gifts, and all this information. She divulged this information. That's where it came from."
Push says with or without the line about his wife, the record still would've dropped, "I was going to go, period. The fact that you put that wife line it just made it great for me. First of all, I see what you lay with, I see what you create with I see what you walk with. I don't want you actually saying my wife's name, I don't. Somebody might misconstrue that with you actually knowing her or something like that."
"I never told nobody that, I never put that out there. I thought there was so much power in silence." Pusha recalls, telling Kanye "What are you apologizing for? You ain't give me nothing, you didn't give me anything in regards to aiding in this drama. Because of all that, now dude thinks what he thinks. We gotta wear that. The only reason I'm here now is because he was so passionate about the whole M.S. thing. But your friend is the reason why… that's how it came about. That narrative gotta die…it's done."
"Even the whole J Prince thing, I don't know J Prince. He did a whole book tour on the back of 'yo I squashed this so on and so forth'. My manager spoke to him, most respectful guy in the whole world[…]Bro we just had a battle, and you came up on the short end of the stick, and that was it."
Joe asks if he believes there's an alternate universe where he doesn't believe he's won this battle and Push simply responds, no. "I've been stacking up W's for a minute in regards to this. Putting out the artwork and you giving a whole dissertation in yo notes and posting that, that's a W to me. J Prince having to step in and say this…that's a W for me. The shots thrown at Ye after the fact, that's a W for me, why you way over there? Going to Lebron and Maverick talking about this 5 months later, that's a W for me."
Rory and Mal inquire about the truth behind Drake's now-defunct Adidas line asking if it was truly coming out, "of course it was, that's the name of it," Push replies. "She knew all of this, she divulged all that information. I didn't get it from him or them. Pillow-talking kills everybody."
"40 is gonna have to look at Drake the way Drake looked at Lebron and say 'did I let you down?' Its gon have to happen like that."
On Drake's canned follow up diss track
"It was bogus. If someone is looking at this [The Shop episode] they may think he did some crazy research and that research ain't come back with nothing…as a matter of fact, they taped the conversations and gave them to me. So play em, if you want, cause I got em! I just don't want n*ggas thinking they got one up on me, or they money or they popularity runs me. This sh*t is some rap sh*t."
Tapes get played around the 90-minute mark
"On my way to Wyoming, to listen to the Ye album, we get a call. Basically, an old friend of from mine said listen, someone reached out to me, said they got a hundred grand for information on you. I knew it was true, because this person should've never known this person. This was a friend from like 2001. The person who was mediating this 100 grand was someone who has worked on all my projects…"
The Wyoming Sessions
"As we were out there, we found my album but we didn't even find my album. He got like 6,000 records. He going through sample after sample after sample. I'm there, sh*ts expensive as f*ck. We were going out there for my album…we found Teyana's album first, she didn't have one. Before we knew it, it was five records, Ye was like call her tell her we got it."
On Drake's confusion surrounding working on Ye's project under the impression he wouldn't be dropping near his release
"I don't know what they'll do, he don't own the month of June. If you're secretly competing with anybody you shouldn't be divulging information, you shouldn't be playing nice when you really not nice."
Listen to the nearly 4-hour interview in full below.