Saweetie x London On Da Track Debut 'Up Now' Featuring G-Eazy & Rich The Kid
Posted on August 22nd, 2018
by RK Jackson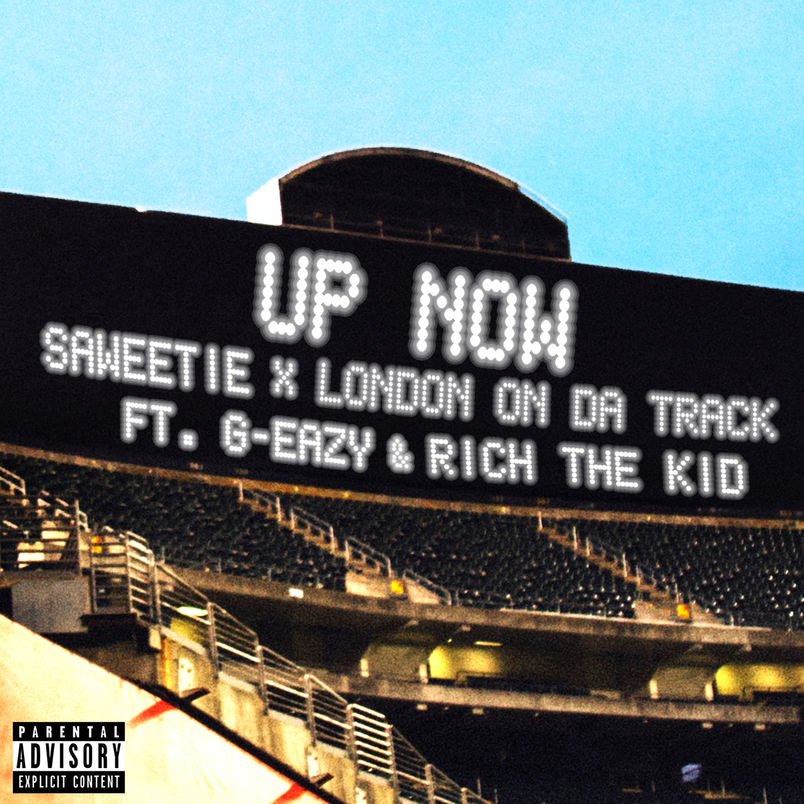 'Icy Girl' rapper Saweetie has debuted her new single with London On Da Track 'Up Now' featuring G-Eazy & Rich The Kid as Zane Lowe's World Record for Wednesday, Aug 22 on Beats 1 on Apple Music. Saweetie says the song came together through London On Da Track, who has supported her from the beginning of her career. G-Eazy and Rich the Kid's features were added after London reached out to collab. The new single is lifted from Saweetie's upcoming debut album, set for release this November. The Cali rapper also reveals Ty Dolla $ign will also have a feature on her album. Watch the interview and preview the song below and let us know what you think of the collab!

__
Beats 1 x Saweetie Transcript
Hanuman: Last time we spoke "Icy Grl" was obviously just blowing up. And now here we are you know eight months later. 
Saweetie: It's Gold now. 
Hanuman: I think I just saw that. So congratulations again.
Saweetie: Thank you. Thank you so much. 
Hanuman: And now we've got this World Record that here is you teaming up with G-Eazy and Rich The Kid. Talk to me a little bit about how this track came together. 
Saweetie: Well me and London were just experimenting in the studio. Because it's his and my song. And I was doing like radio promo. And first he sent me Rich's verse and then a day later he sent G-Eazy's. And I'm just like what's happening. Like how are you getting these verses but you know like he obviously has a relationship with them. I absolutely love their verses, so I'm excited for everybody to hear what we cooked up.  
Hanuman: Talk to us a little bit about London how you two kind of linked up? 
Saweetie: You know he's just one of the producers that reached out super early. Like before "Icy Grl" was popping. He was like I love your sound I love what you are doing. So I'm going to just rock with him forever, because he believed in me before everything was hyped up before everybody was you know paying attention to me, so I really like love and respect him for that.  
Hanuman: London, you're on the line with both myself and Saweetie so we were just getting into "Up Now" man. This track is pretty ridiculous. Talk to me about how you know you kind of came to put hands on this.  
London: We was in the studio. We did the song in the studio probably about less than two or three hours. It was quick. I had did the beat off you know the model. Felt like she needed to do you know I wanted to keep that Bay Bay Area beat because she's from the Bay and yeah it was history after that. 
Hanuman: Talk to me a little bit about sort of making the leap from the EP to putting pen to paper and getting in the studio for the album. How are you approaching this that's a little different from the EP? 
Saweetie: Well from the EP I kind of already had those songs in the box and I kind of picked my favorite ones, but this time I'm working with more known producers and I'm making songs specifically for an album instead of just having fun. I mean it's always fun, but I'm recording for a purpose.  
Hanuman: Looking at just these kind of collaborators on "Up Now". Talk to me a little bit about you know who else we can kind of expect to hear on the on the full length.  
Saweetie: Well you know he's killing it right now, but Ty Dolla will definitely be on there. His hooks are crazy so I'm honored that you know he's going to be a part of my first like official album.  
Hanuman: Well that's awesome. Is it 2018 or are we looking to 2018 for a release of the full length? 
Saweetie: We're looking at November 2018.  
Hanuman: London, you know she was mentioning that you were kind of reached out to her at a very early stage in her career and kind of the importance of that. Talk to me about what about her kind of stood out for you and made you want to collaborate? 
London: I saw her pretty early. You know I visited her page. Saw a few of her videos and went on YouTube and you know just you know did some of my research and I like the flow and her energy on tracks and you know her sassiness and swagness. It was just something that I liked. And you know caught on to it early.  
Hanuman: Talk to me a little bit about kind of cooking and kind of adding G-Eazy and Rich the Kid to the sauce. How did you kind of go about juggling and balancing all three artists?  
London: When we finished our part of the record whatever me and Saweetie put out first I wanted to make sure it was like epic and something that we didn't forget it. I wanted to make it a moment so I wanted to as somebody from the side of the town on it which was you know G-Eazy and I wanted to ask somebody from my side of town which was Rich the kid. So we had both of both worlds. You know once I sent it to them. They hopped on it immediately.