Posted on July 13th, 2018
by Christian Emiliano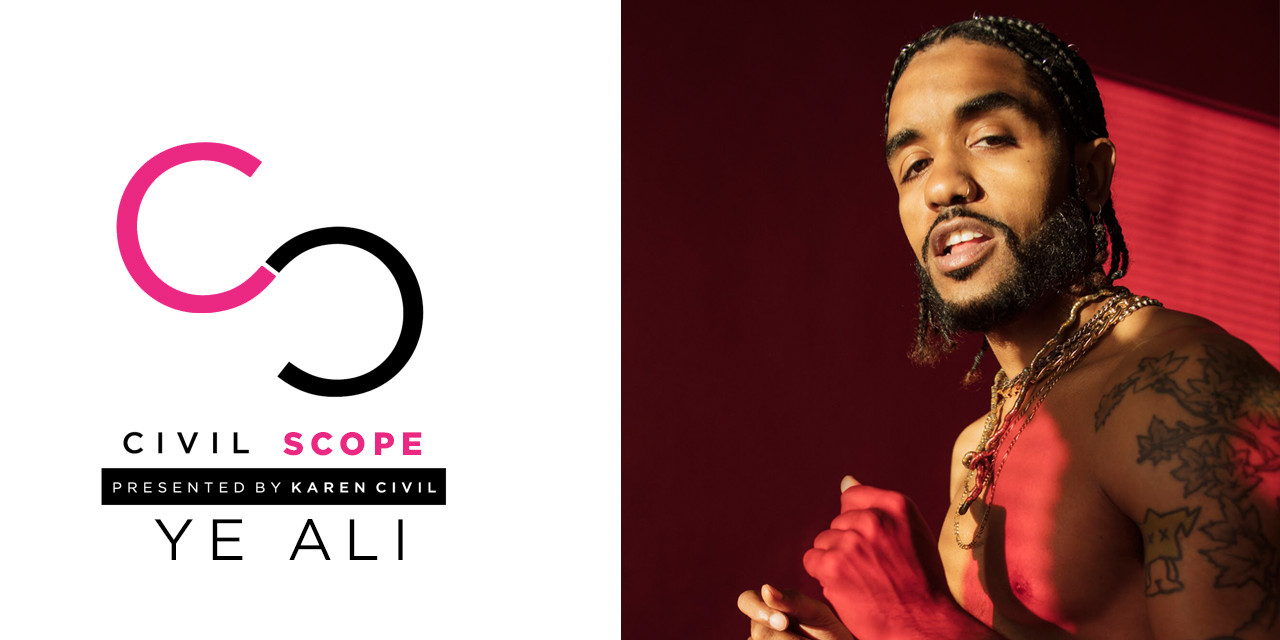 Straight from the Midwest, a new talent is making a name for himself on his own terms. Indiana native, Ye Ali, has been gaining major traction for combining his rapping, singing, and love of samples. The self-proclaimed Traphouse Jodeci has not only worked but has been sampled by some of your favorites including Chris Brown.
Ye Ali showcases a certain amount of honesty with his music that is refreshing and is one of the reason he is finding the success he is. Gearing up to release his next album Traphouse Jodeci 2 , we caught up with him to find out what drives his creative process and what can be expected from him going forward.
You became really popular on social media at first, but not necessarily for your music. For example, when I first started following you a couple of years ago I just thought you was a social influencer. Did you get that a lot early in your career?
Ye: Yeah. I didn't always make music. So I use to design clothes, throw parties, I'm a Kappa so I've done a lot of frat events with my dogs so yeah I got a lot of that. At first, it was kind of hard to convince people I was a musician seriously and I just had to keep doing it and eventually a lot of people and celebrities, like Amber Rose she was one of the first people to show love to me and posted my mixtape and clothes. That got my social media up and just her interacting with me and just building relationships with women a lot and just curating an image of someone you don't know and when you see me you know women love me and mess with me. It's a reason for that, I'm not out here saying fuck that bitch and pop some molly. I really talk about what I experience and it's a void. I always call it a void in R&B for men to be genuine and open up and be emotionally vulnerable and available and people like that about me. That has always been apart of my character and I just applied that to the music and it kind of just took off and had a mind of its own once I put my own real personality into my music because at first I wasn't putting my own personality into it I was just trying to figure out how to start it and how to write a hook and beat so I was just making, in my eyes, generic music. It didn't really click with the people until I started being me and then it just started working.
So you are a Kappa, and the way that you describe it your music, you come across and a quintessential Kappa. So does your Greek like have any affect on your music outside of your lyrics. Like in terms of networking or dealing with brotherhood?
Ye: Yeah. Being a Kappa was essential for me because I would have never done music if it's wasn't for Kappa.
Oh really?
Ye: Yeah. Joining the frat wasn't on my mind. I was never that type of guy in college and wanted to be in one and it just felt right so I ended up doing it. I just liked the dudes I was with, my line brothers just helped build that bond. I didn't grow up with brothers and sisters so that felt good since I didn't have it growing up. It sounds bad, but I use to want to be part of gang so I always told my pops I wouldn't do it. I had opportunities but I just liked the brotherhood. I saw them gang banging and I would watch them hold each other down and I would like that. So I saw that in college and that made me join them because it sparked something.
In something that you always wanted even growing up?
Ye: Exactly. In Kappa they got me to do music just through persuasion and they heard me freestyle. It was just that type of vibe and they encouraged me to embrace my personality and I was popular on campus and they wanted me to explore that and push it. One of my older frat brother, Brian, was a DJ and it made it seem possible. I saw other people on campus doing it so it pushed me to make that my persona. You got three years left on campus so you might as well be a rapper and see if the people will grow with you.
So your upbringing is rooting in Indiana. Where did you go to college?
Ye: I was actually born in Chicago. I lived in Chicago until like middle school and then I moved to Hammond, Indiana. I went to high school there and I went to college in Bloomington, Indiana at I.U.
And you currently live in L.A.?
Ye: Yeah I am back and forth from L.A. to Indiana.
Do all of this different locations have any affect on your sound?
Ye: I would say Chicago and Toronto have probably the biggest influence on my music because Chicago had more of an identity musical than Indiana. I'm from Northwest Indiana, so Indianapolis is different because that's the capital. I'm closer to Gary so we don't get the games, the same tv, and we get Chicago culture. So I was more drawn to Chicago rappers and they grittiness of that. And with Toronto I would visit out there, I had a girl out there I was dating, and homies out there I would hoop with. They ended up being big producers for like Drake and we just kept in touch on the internet. I always work with a lot of Toronto artist to where people think I'm from there but it's just cause I really built a following out there. L.A. hasn't influenced me yet, because I haven't been here that long because I'm always back and forth.
While talking about Toronto, you fit in musically with that meta-chill, rap/singing style of music that has been compared to Tory Lanez, Bryson Tiller, and 24Hrs. But you was one of the first to really do it. Do you get them comparisons a lot?
Ye: Yeah, but I don't mind being compared to people I know personally or who I worked with. Most of the people I work with are signed artists so some people know me and some don't. So the ones that do its a deep respect. I get the respect and more it coming so I look at it like that. If I'm not being mentioned with anyone then I'm doing something wrong. So the fact I am even being compared is a compliment.
Do you consider yourself a rapper or a singer?
Ye: I have no preference but I always say I am a rapper. That's what I came in with and I started out battle rapping and R&B I did do was me just writing for other people to be on my songs. I wasn't singing on my songs, that was me incorporating the element into a different vessel. I always had elements of my style now, and in the beginning it was more just bars and I was more focused on getting the bars out and saying something. So now it's easier to make a song because now I'm very lyric driven and I'm going to say something to make it a caption. It helps being a rapper because R&B is just rap slowed down so you have to do half the work. You get to chill, have your vibe, so I look at it like that. It's like recess for me.
I'm a huge nerd for Instagram aesthetics. I noticed that when you are more focused on your R&B type music you give off one vibe of being relax and when you are working on rap you give a different one. It's a little more serious. You posted something about one of your homeboys still being locked up. Did being locked up have any influence on your music?
Ye: I don't know. I kind of use everything as inspiration. Whether I go through something, or my homie goes through something. I just used it as fuel. Like my homie Quincy, God rest him, he was killed last year and just came to my show like three months before. You know, that shit is surreal as hell. It's still doesn't even feel like he is gone. It's just crazy how life is and I just use that as motivation. He always told me to keep going. We had lost touched when I moved away but our parents and grandparents stay friends and we stayed in touch on the internet. We always just knew what each other was up to. Once he got in music I would talk to him more because I could give him advice, chop it up, and we came up playing basketball together. And hearing that he got shot, and he wasn't even in that lifestyle. Chance the Rapper had even tweeted about him because he was influential to Chicago. It was a moment of clarity, inspiration, and heartbreak to use at once and have something to tap into. It's some things you can say in rap better than you can sing it. And when I refer back to time and how long a song takes, sometimes you have to go back and take the time so you can say it twice as much. I take each as serious as the other one and mix it up when I want to. It's whatever is moving me at the moment.
Can you break down what a typical recording process is for you?
Ye: Usually it is just me and an engineering because I don't like a lot of people in there with me while I'm recording. I will listen to the beat a couple of times and I might smoke a little bit before. If I have a melody I might go make that up and put in some words and I will hear it a couple of times. Sometimes I have a session that is only driven for hooks no verses. I can knock out 15 songs in a day if I only am doing hooks. If I am just working for myself and thinking of what I want to do for my project I might go in and do two to three songs from start to finish and then I like people to come in. Call some of my homegirls pulls up, vibe with me. For the most part I'm just recording and make it an intimate as possible. I do two songs an hour.

In your music, you use a lot of 90s R&B samples. Does that play towards the romance and the storytelling you said you missed in music and that sets you apart from other artists?
Ye: The sampling I guess, well a lot of the stuff that anybody hears me sample is very old music of mine. 'Reputation' was from 2015.
Wait. The song with 24Hrs? I love that song.
Ye: Thank you bro. I did that song by myself and it was just me two years ago and then I added him. It was just something I wanted to release and the era that I'm in I wanted to use these samples to my advantage. A lot of people like my song 'Shook' where I sampled Donell Jones. People like 'Talk Less' because of Ashanti. 'Trust Me' because of Travis Scott. All of those were done around a certain time and it was phase I was in. I don't like to do it as much but I will do it when the feeling strikes me. It was a time where I had some many beats like that I never finished. I can only sample when I feel like I can't figure it out. I can only sample when I need help, like if I will listen to see how I can make a beat sound so it's more when I am stuck like a cheat code. You just fill in the blanks and make it your own. With 'Talk Less' I used the acapella for the Ashanti song and I told my producer to add some Caribbean drums. Something totally not Ashanti but still keep that vibe like when she was riding on that elephant in the video on the beach. Even on 'Late Night Flex' I sampled Kehlani and a lot of people liked how I owned it. And I made my version their favorite version. I am not going to sample something if my version isn't going to be the best one. It's more of an all-encompassing thing for the artist, and for me, and for people who might piss me off because they didn't know their history. For example, people didn't know that was Donell Jones for 'Shook' and I was like man y'all have to go back and listen. That's the fun part of sampling because they found out who the artist is. Like they might have thought Donell Jones was a one hit wonder or only heard his song with Left Eye. If you not a R&B fan then that might be the only one you know. Y'all need to appreciate Donnell and can appreciate him through me.
Do you have any major music influences you pick from with specific artists?
Ye: I would say, I am very moody so I love Sade. I am really big on Sade, I am really big on The Dream, I like John Mayor and this band from Toronto called Midnight Trust its a sick band. It's two guys and a girl. I'm influenced by alternative music  like DeftTones, Chromatics these guys are like rock and punk bands. That's what I was a big fan of growing up. Like Metallica, Limp Bizket, Korn, and fucking Slipknot. The aggressive ass rap/rock mesh. Linking Park. Everyone had that phased where they liked them. T-Pain. Lil' Wayne definitely as my energy and how many songs I do a day. I look to him for longevity and energy.
One of your longtime collaborators is BiznessBoi and you guys are kind of the dream team. How did that friendship come about?
Ye: We met in a studio in L.A. around 2016 when I had mad 'Tingz' and I dropped it on Soundcloud. We knew some of the same people and had some of the same friends so we kept in touch and eventually I came to L.A. and we started kicking it more. He was working with PartyNextDoor and my roommate at the time was Party's engineer. He record 'Work' and a lot of other stuff at the crib. Everyone was working at the house. It was a crazy artist house. I brought through Iggy Azeala, Nick Young, Wonder Girl, 8Trak, all though the crib to come fuck with me. It was a great energy. Our only time working together was on 'Traphouse Jodeci' and we did a couple of singles but we had a really good energy creating the album and we collaborated more on the beats. And we connected on that 'Tingz' and that a rap song and he didn't know I did the R&B until we linked in person.
How does it feel when Chris Brown, and recently Rae Stremmurd, sample some of your old songs.
Ye: It's cool man. I like the feeling. It's just let me know that I am apart of the culture and it's just more confirmation that I am going in the right direction. I appreciate all the love.
Are there any artist on your radar at you would like to work with in the near future?
Ye: Hmm. I want to work with Future. I really want to work with him. I want to work with Ella Mai I like her song Boo'd Up. Weeknd. Belly and Willow Smith. I want to work with Cardi B for sure.
You are gearing up to go on tour. Can you tell me what the game plan is?
Ye: It's all in works and I am doing a few shows with a few different artist. It's going to be some R&B and some turnt up shit. It's going to be scenery and the stage is going to be set a certain way and it's going to feel like you walked into my house. So you get real comfortable like you in my house and BOOM the show starts. I'm taking my time with it and the project with rolling it out. The listening parties and the experience is going to be more fan geared. I'm going to dinner with you, come here, and those experiences you never get with your favorite artists and its like you can when you listen for the first time. More intimate and celebration of the fans.
How is Traphouse Jodeci 2 going to be different from the original Traphouse Jodeci?
Ye: This one is production wise is a little more in-depth. The production is so well thought out and progressive. Even with certain moods. I set moods on the first one with 'Causal' and I liked how I made that a moment on the project. I produced a couple of tracks where I set the mood. I feel like I helped with the foundation to get the album started. I was more involved with the production and I have a method once I got the ideas going. From the titles, to the tracklist. I'm not going to say it's better but it's not meant to compete. The story I told on the last album you need to follow me now with this one. I'm still living life and it's still things I have to tell you that I didn't tell you on the first one. I lived a lot of life in two years. I have a lot of life to talk about and a couple of vibes to share that I didn't on the first one. It's going to be surprising to a lot of people. How it's different songs on there that will take you to a different era and it's crazy to see me do it and it's a different side to me. It's not Jodeci samples, it's making music and I'm making my own Jodeci. I've been sampled four times so it's evident that I am to be repeated. That's what you call a classic. You aren't going to waste your time and money on a whack sample. Twenty years from now someone will sample me and you only have twelve songs so far to sample. I'm giving you 12 more you can choose from. I can't wait to see how samples this album. I didn't get to say enough on the first album. Every song was a different room in the house. On this album I take you from the doorway, up to the bedroom, then we go to the club, then I bring you back, and then that's when the party begin. I sequenced the album for when you start your night. An album is someone experience and I want it to have a natural human flow. My music will frame a reference in their life and that's what I am aiming for.