Watch Nicki Minaj & Tina Fey's 'Saturday Night Live' Promo Video
Posted on May 17th, 2018
by Lupe LLerenas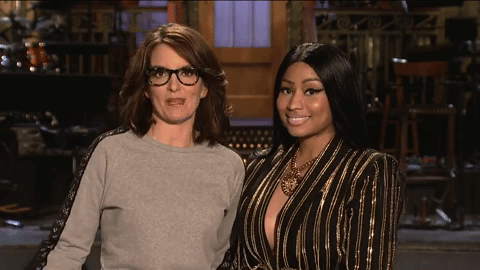 Update: With Nicki Minaj's album set to drop in just a few weeks, fans are excited to see what's next to come for the rap queen. This upcoming weekend on May 19, Nicki will host Saturday Night Live alongside comedian Tina Fey.
Take a look at their SNL promo video and let us know if you're excited to catch the duo on T.V.
"It's gonna be 🔥" – Tina Fey #SNLFinale@NICKIMINAJ pic.twitter.com/9tlLCZlUx0

— Saturday Night Live – SNL (@nbcsnl) May 17, 2018
Original: Nicki Minaj has a big year ahead of her!
In addition to the release of her new album, Queen, she will also make an appearance on the season finale of Saturday Night Live, and that's not all, the "Chun-Li" rapper will be shooting a movie with comedian Tina Fey directly after her SNL performance.
Nicki shared the exciting news on Instagram writing: "SEASON FINALE W|THE ONE & ONLY TINA FKN FEY. GOTTA BE FKN KIDDING ME. OMG. SHE & I are shooting our movie after Saturday's show airs. Yikesssssssssssss."
Nicki may have also unveiled the title of the movie. "Get ya whole fkn LIFE H*ES!!!! In fact, that's the name of the movie," she joked "#GetYaWholeFknLifeHoes sike. It's called #GetYaLifeUgly"
So we might just have to wait and see come this weekend.
In the meantime, check out the announcement below and catch Nicki Minaj on Saturday Night Live, Saturday, May 19.