Janet Jackson Covers Billboard: Talks Early Life, New Artists, Motherhood, New Music & More
Posted on May 17th, 2018
by RK Jackson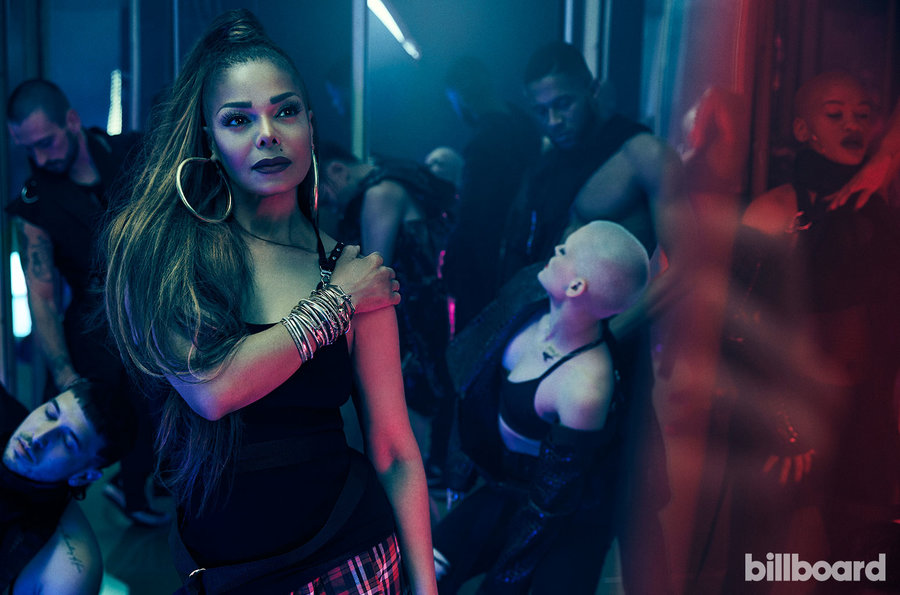 Ahead of her Billboard ICON Award this Sunday (May 20), Janet Jackson took to the cover of Billboard Magazine to speak about her trials growing and maturing in the industry, what keeps her motivated as a mother and new artists that inspire her to create more music. With a career with No. 1 albums in four consecutive decades; roughly 32 million albums sold in the United States, according to a Billboard estimate; 40 hits on the Billboard Hot 100, including 10 No. 1s, its easy to see how one could deem Janet an ICON. But her personal journey has been one to watch.
On finally getting her shot at solo-stardom
Excitement was in the air. Music was always my heart, and now I was getting to sing my heart out. The songs were good, but they weren't me. [She only began co-writing most of her songs on Control.] That was a little confusing. I knew I had something to say, I knew I had to assert myself. I also knew I had to go through the painful process of what my brothers had gone through. I had to thank my father for his help and then move on. I had to assert myself.
On allowing Jimmy Jam & Terry Lewis to draw the framework of her new found Control
That was critical because they were not controlling. They let me be me. They encouraged me to tell my story, express my attitudes and step forward with my convictions. They encouraged me to write. I also had the control to select choreographers and video directors who could channel — and help me shape — my own dance moves, turning them into visual poetry. I didn't control those wonderfully creative people, and they didn't control me. It was more about molding fruitful partnerships. And based on those partnerships and the success of Control, I could move on and assert myself even more boldly.
On Michael asking her to sing backgrounds on Thriller
That brings up a precious memory. It happened in the early '80s. I was 16 and in between my first two records. Michael was recording [1982's] Thriller. He invited me to the studio where he was about to sing "P.Y.T." and asked me to help out on background vocals. Since we had been singing together forever, I knew it'd be easy. I jumped at the chance. I loved being one of the P.Y.T.'s and was especially proud — I hope this doesn't sound like bragging — that when the record was mixed, my single background voice was the one featured. I can't tell you how good that made me feel.
On new music
I wish I could [tell more]. I'm not trying to avoid the question and be secretive, but the truth is that I don't try to analyze the creative process while it's still ongoing. I'm very intuitive about writing. Anything can inspire me. […] Like everyone else, my feelings are fluid. My ideas are fleeting. I like to keep it that way. I can't decide in advance what a song or an album concept will be. I have to let those songs and concepts come to me rather than chase them down.
On new artists being more courageous than ever
Daniel Caesar is proving that romantic R&B is alive and well. Kendrick Lamar and J. Cole are proving that brilliantly original storytelling is one of hip-hop's great gifts to world culture. SZA is proving that young women still possess extraordinary vocal skills and style.
I also have a special place in my heart for Bruno Mars. Bruno was really the first music my son responded to. During and after his birth, I comforted myself with Brazilian jazz, music that always relaxes me. Then when the baby began crawling, Bruno was breaking out big and on the radio all the time. That delighted both of us. Bruno is a throwback to the days when the greatest artists could do it all: write, sing, dance, produce.
On the pressure of creating music that reflects the State of the World
No. I'm anxious. I'm angry. I'm certainly concerned, but when I hear new artists finding their voices, just as I found mine, I'm optimistic. Young artists are exhibiting more courage than ever. Music is more alive than ever. And more relevant. We women artists — and women in general — are saying we will not be controlled, manipulated or abused. We're determined not to fall back to those days of emotional and even physical enslavement. It's a blessing to be alive today and join in the fight for equality among all human beings.
On motherhood and being a woman
Like millions of other women, I've struggled with low self-esteem my whole life. I'm doing better in that regard. My inclination toward harsh self-criticism and even self-negation has dramatically eased up. I believe in all the different methods of help — smart psychology, vigorous exercise and sincere spirituality.

And while we're talking about positivity, let me also say that my son, even in his short 17 months on the planet, has showed me that love, no matter how deeply you believe you have experienced that emotion, can always go deeper. Love is limitless. And for someone like me, raised in show business where self-concern is always a priority, how fortunate I am now to be concerned, first and foremost, with the welfare of someone else. Day after day and night after night, holding my baby in my arms, I am at peace. I am blessed. I feel bliss. In those moments, all is right with the world.
Read the full billboard article here.