Posted on November 13th, 2017
by Lupe LLerenas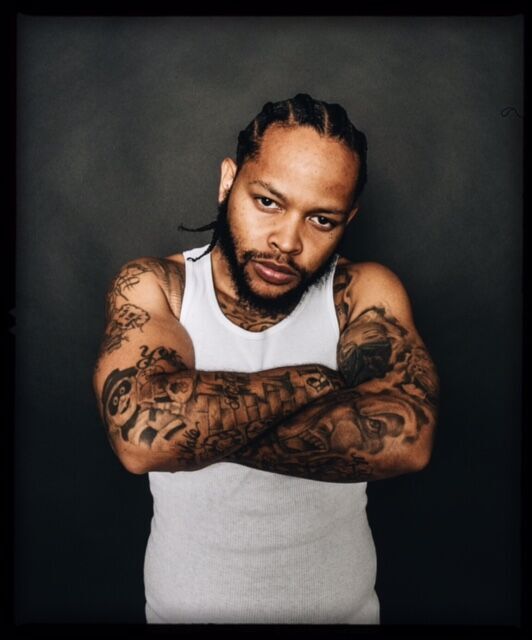 Crisscrossed by numbered streets, the blocks of Los Angeles always set the scene for West Coast rap.
Referenced in his very name, TeeCee4800 grew up around 4800 Street in Mid-Town district, Los Angeles. With an ironclad flow and knack for a cinematic narrative, he dispenses the kind of hood tales that made Southern California a hotbed for hip-hop in the era of Tupac Shakur, Dr. Dre, and Ice Cube. At the same time, he adds a fresh flavor and undeniable universality to that timeless template on his 2017 project, Realness Over Millions 2.
"Most of what I do is storytelling," he explains. "I'm definitely West Coast, but I want to make music you can play anywhere. My songs would work just as well on the East Coast, in the South, or in the Midwest. That's important to me."
The SoCal rapper started rapping in 2009, by adding the original verse to his big cousin Ty Dolla $ign's "Toot It and Boot It" before the track became a breakout moment for YG. Learning how to record and purchasing his first laptop, microphone, and speakers, he quietly honed his craft. Soon, he gained international recognition by spitting on "Meet the Flockers" from YG's album, My Krazy Life.
We spoke with TeeCee4800 about how he got started in the game, where he sees his career going, Realness Over Millions 2 and much more. Check out our latest Civil Scope interview below! – Lupe Looove
You're from Los Angeles, how do you think being from the West Coast has impacted your career?
TeeCee4800: I'm very bias for the most part, and I listen to nothing but West Coast artists. Growing up, I listened to Tupac, Ice Cube, Dr. Dre and would be able to relate to them more than anything. At the end of the day, 'I live out here, so don't go there.' (laughs)
When would you did you start taking music seriously?
TeeCee4800:I knew exactly when I was taking music seriously and it was when I did the song "Toot It and Boot It," with YG and Ty Dolla $ign. I started buzzing and I remember I wasn't really rapping yet but I went to Ty's house and took advantage of the opportunity that was given to me. After that, I bought my own music equipment and the rest is history.
Now your name TeeCee, how did that stage name come about?
TeeCee4800: I'm Lil TeeCee, big TeeCee is Ty Dolla $ign's brother, which both are my cousins. Where I'm from, I go by Lil TeeCee and to everyone else, I'm just TC. The 4800 is a block that me and Big TeeCee represent so I just put it at the end of my name, TeeCee4800.
Who would you consider as some of your biggest influences?
TeeCee4800: Yeah, I listen to a lot of West Coast music and they've inspired me one way or another but a few other ones have been 50 Cent and Gucci Mane. Man, I've listened to Gucci Mane since the early days. When Jeezy and he would go head to head, I'd always be like 'It's Gucci Mane, Gucci Mane all day.' And to see how far he's come too, it's incredible!
Being that you're from the West Coast, you've worked with YG, Vince Staples & of course, Ty [Dolla $ign] but is there anyone else you'd like to collaborate with?
TeeCee4800: I want to collaborate with the homie Grido, and with pretty much any up and coming L.A rappers. I've never been too hyped about the 'just because you have a big name, we can't callab' situation. I'm also down to collaborate with the Bay Area. The Bay Area is so hot right now, there's so much talent.