10 Celebrity Written Books to Add to Your Reading List: From Gucci to Gabrielle Union
Posted on October 23rd, 2017
by Ashley Vance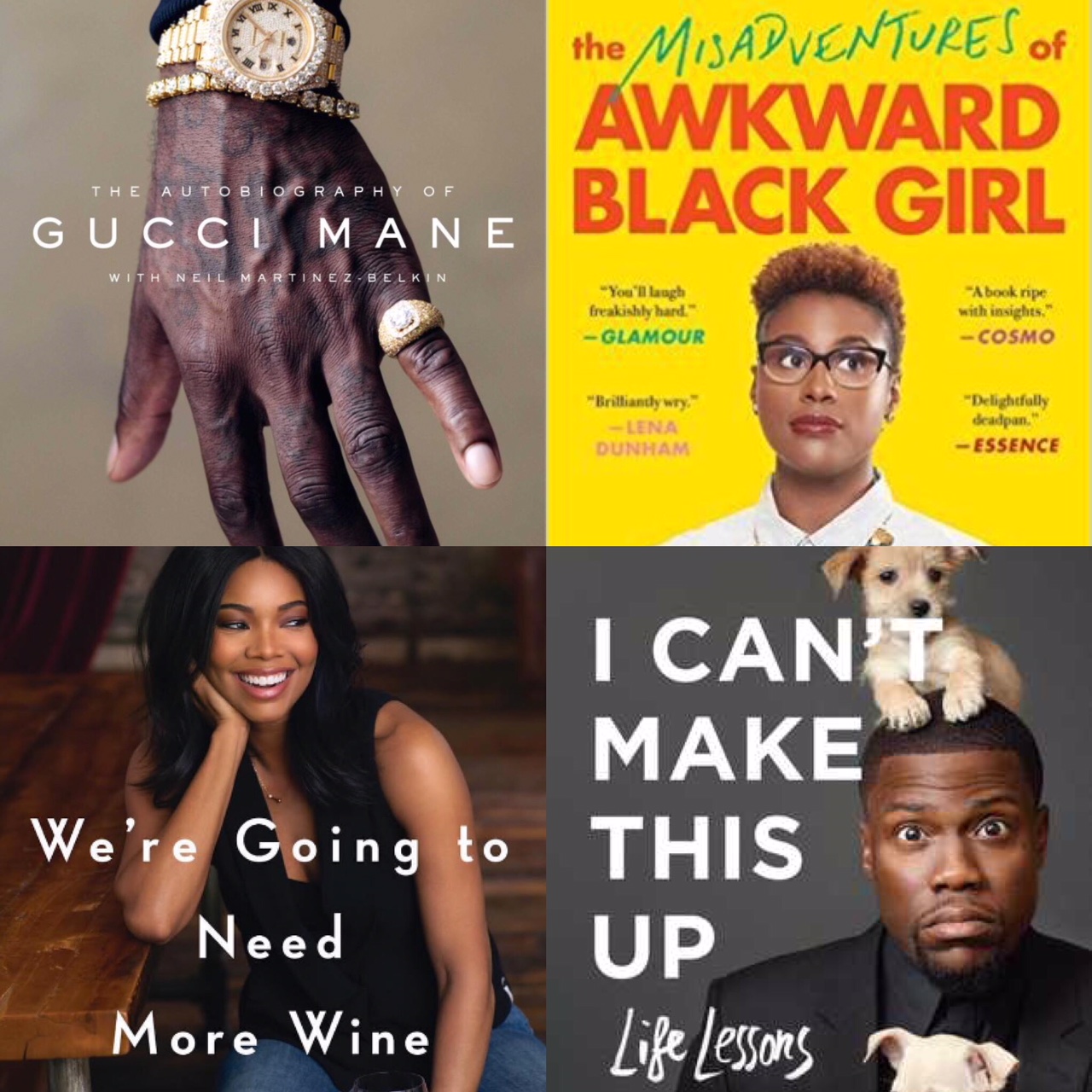 Thanks to photos of the book's cover floating all over Instagram, it's no secret that The Autobiography of Gucci Mane lured a few first-time book purchasers into the limelight.
Of course, Gucci wasn't the only celebrity to pen their own book this year. Some of our favorite red carpet names have added another section to their resumes by writing books inspired by their lives. Between Gabrielle Union's Were Gonna Need More Wine, Charlemagne's Black Privilege and Taraji P. Henson's Around the Way Girl, 2017 could easily be considered the year of the celebrity author.
In a world where digital content continues to rule, it's important to keep the traditional paperback books alive. Since Gucci Mane's Autobiography was such a great read, we decided to round up a few titles that deserve a spot on your bookshelves:
1. Gucci Mane: The Autobiography of Gucci Mane
Let's start with the current talk of the town. Other than being written by one of the most notably reformed men in entertainment, there's a long list of reasons you'll want to pick this book up. The stories are compelling and prove Gucci Mane is always prepared to come back harder than ever before. The lessons he endured and shared in this autobiography can be valued by us all.
2. Keke Palmer: I Don't Belong to You: Quiet the Noise and Find Your Voice
Known for landing herself in the center of attention, Keke's Palmer's recent release is an ode to her not caring what you think about her. The actress/singer  created 
I Don't Belong To You
as an inspirational guide to encourage young women to change their mindsets and live with more freedom, confidence, and love. Within each chapter is a personal interview with one of the many people that have inspired and motivated her, including Serena Williams, Drake, Nicki Minaj, and Lee Daniels.
3. Kelly Rowland: Oh, Baby!
Personally penned for first-time and millennial moms, Kelly Rowland's first book explores her trial and error journey through motherhood. In 
Whoa, Baby!
 Rowland and Dr. Bickman team up to share this reassuring information with new moms everywhere. Both hilarious and down-to-earth, the pair cover every surprising challenge most new moms face.
4. Trevor Noah: Born a Crime
Though Trevor Noah's 
Born a Crime 
was released nearly a year ago, the subject matter is more relevant now than ever before. His unlikely path from apartheid South Africa to the desk of 
The Daily Show
 began with a criminal act: his birth. Trevor was born to a white Swiss father and a black Xhosa mother at a time when such a union was punishable by five years in prison. 
Born a Crime
 is the story of a mischievous young boy who grows into a restless young man as he struggles to find himself in a world where he was never supposed to exist.
5. Gabrielle Union: We're Going to Need More Wine
Gabrielle Union's introduction to authorship was just released this week. 
We're Going to Need More Wine 
is a powerful collection of essays about gender, sexuality, race, beauty, Hollywood, and what it means to be a modern woman. The actress has shaken the world with a vulnerable editorial in which she urges society to have compassion for victims of sexual violence and reveals her own sexual assault trauma.
6. Charlamagne Tha God: Black Privledge: Opportunity Come to Those Who Create It
The Breakfast Club's brutally honest host published his New York Times bestseller earlier this Year. In the book, Charlamagne discusses how living an authentic life is the quickest path to success, and how owning up to his mistakes got him where he is today.
7. Issa Rae: The Misadventures of an Awkward Black Girl
The dangerously relatable Issa Rae released her equally relatable book in July of 2016. Here, the Insecure creator talks about how difficult it can be for a woman with awkward-black-girl-syndrome to maneuver in a world that only glorifies "cool." In her first New York Times bestseller, Rae covers everything from cybersexing in the early days of the Internet to learning to accept yourself—natural hair and all.
8. Taraji P. Henson: Around the Way Girl: A Memoir
In the midst of her "Empire" and "Hidden Figures" fame, Taraji P. Henson gifted the world with 
Around The Way Girl
in October of 2016. In her classic memoir, the legendary actress reflects on the world-class instruction she received at Howard University and the pitfalls that come with being a black actress. She also shares stories of her Vietnam-veteran father and her mother, who survived violence both in the home and on DC's rough streets.
9. Gabourey Sidibe: This Is Just My Face
One final head nod to awkward black girls (like myself), 
Gabourey Sidibe's book is a must-read for any colored woman in their turbulent twenties. Here, the actress talks finding beauty within herself after taking on the role of Precious. Sidibe's memoir hits hard, transitioning between the topics of friendship, depression, celebrities, haters, fashion, race, and weight. 
10. Kevin Hart: I Cant Make This Up: Life Lessons
Providing likely advice from an unlikely expert, Kevin Hart's 
I Can't Make This Up
timelines his life before and after his success. Here, he provides words of wisdom and encourages those with dreams to bet on themselves. He also talks about his upbringing and how he became the biggest comedian in the world with tours that sell out football stadiums and films that have collectively grossed over $3.5 billion.