R. Kelly Accused Of Holding Girls Against Their Will In "Abusive Cult"
Posted on July 17th, 2017
by Staff Editor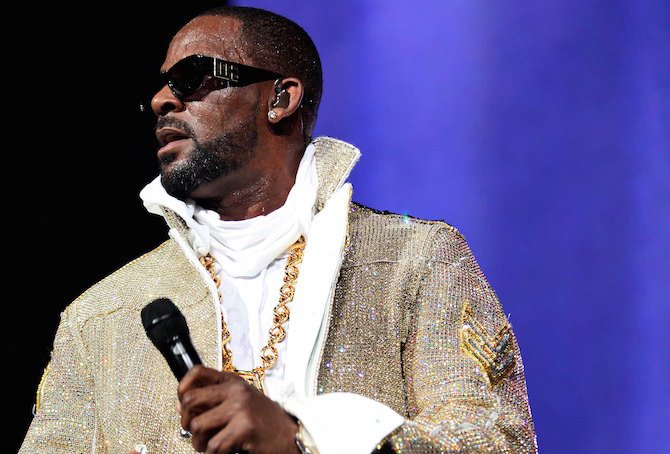 Early Monday morning (July 17), a disturbing article from BuzzFeed News surfaced with claims of R&B legend R. Kelly allegedly running a "cult" and holding girls against their will. Three former members of Kelly's team, as well as parents of a 21-year old girl, speak out.
"J." and "Tim", parents of a 21-year old striving singer, tell police that their daughter is being held against her will by R. Kelly. Unfortunately, their daughter isn't considered "a missing person" in the eyes of the law – she still lives with Kelly and says she's doing fine despite her parents' claims.
Cheryl Mack, Kitti Jones, and Asante McGee, three close former associates of Kelly, have provided other troubling details to BuzzFeed.
They said, "six women live in properties rented by Kelly in Chicago and the Atlanta suburbs, and he controls every aspect of their lives: dictating what they eat, how they dress, when they bathe, when they sleep, and how they engage in sexual encounters that he records."
More from BuzzFeed:
Mack, Jones, and McGee claim that women who live with Kelly, who he calls his "babies," are required to call him "Daddy" and must ask his permission to leave the Chicago recording studio or their assigned rooms in the "guest house" Kelly rents near his own rented mansion in suburban Atlanta. A black SUV with a burly driver behind the wheel is almost always parked outside both locations. Kelly confiscates the women's cell phones, they said, so they cannot contact their friends and family; he gives them new phones that they are only allowed to use to contact him or others with his permission. Kelly films his sexual activities, McGee and Jones said, and shows the videos to men in his circle.

Mack, the star's former personal assistant, said Kelly almost always tells the women to dress in jogging suits because "he doesn't want their figures to be exposed; he doesn't want them to look appealing." She said when other men are in the same room, Kelly "would make the girls turn around and face the wall in their jogging suits because he doesn't want them to be looked at by anyone else."

If the women break any of Kelly's "rules," Mack and Jones said, he punishes them physically and verbally.
J and Tim say they've only spoken to their daughter twice since she left to live with R. Kelly, and other parents are allegedly looking to get their daughters back home. According to Mack, Jones and McGee, these are the women that were living in Kelly's homes:
A 31-year-old "den mother" who "trained" newcomers on how Kelly liked to be pleasured sexually. She had been best friends since high school with the girl in the videotape for which Kelly was tried in 2008. She recently parted ways with Kelly, these sources say.
A 25-year-old woman who also has been part of Kelly's scene for seven years.
A recent arrival, a 19-year-old model who has been photographed in public with Kelly and named on music gossip websites — a rarity among the women in his circle.
An Atlanta songwriter who began her relationship with Kelly around 2009, when she was 19. (She is now 26.)
And an 18-year-old singer from Polk County, Florida. Mack said the Florida singer is Kelly's "favorite — his number-one girl."
While Kelly didn't respond himself, here's what his lawyer Linda Mensch had to say:
"We can only wonder why folks would persist in defaming a great artist who loves his fans, works 24/7, and takes care of all of the people in his life," Mensch wrote. "He works hard to become the best person and artist he can be. It is interesting that stories and tales debunked many years ago turn up when his goal is to stop the violence; put down the guns; and embrace peace and love. I suppose that is the price of fame. Like all of us, Mr. Kelly deserves a personal life. Please respect that."
Read the full story on BuzzFeed News.