Timbaland Accepts Swizz Beatz' Beat Battle Challenge
Posted on July 15th, 2017
by Lupe LLerenas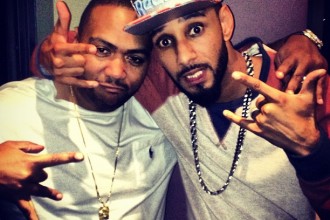 Back in February, Just Blaze and Swizz Beatz stomped the hip-hop work when the yheld a live beat battle. For two hours straight, the legendary producers went back and forth with hit after hit.
Today, Swizz Beatz and Timbaland have officially agreed to go against each other in a beat battle challenge.
So how exactly did this go down? Well, Swizz took the first shot when he challenged Timbaland on stage at Floyd Mayweather and Conor McGregor press conference at The Barclays in Brooklyn. Wasting no time, Timbaland then took to Instagram to say he accepted the challenge and according to Timb, Swizz has official "woken up the king" in him.
Peep the two videos below where Swizz Beatz challenges Timbaland and let us know in the comments section who you think might win.