Watch PnB Rock, Kap G & Kamaiyah's 2017 XXL Freshman Cypher
Posted on July 14th, 2017
by Lupe LLerenas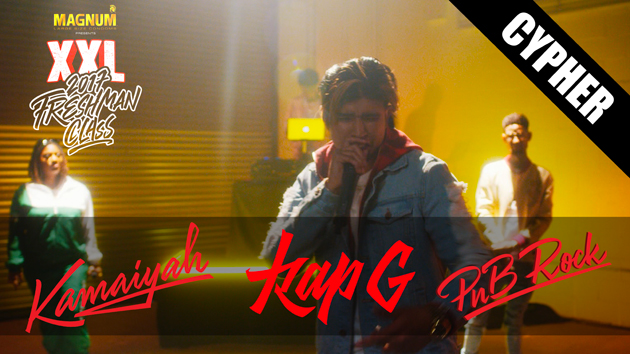 Another day, another 2017 XXL Freshman Cypher.
Just after getting Playboi Carti, XXXTentacion, Ugly God & Madeintyo's cypher, we get PnB Rock, Kap G, and Kamaiyah's.
Philly's own PnB Rock kicks things off in a playerlistic way with lyrics like, "She said, 'Rock, I love you,' I said, 'B**ch, you think I'm stupid, huh?/Either that or you've been watching fairy tale movies, huh?."
Next up is ATL's Kap G, who brings his melodic flow and cadence to the forefront. "Told your bitch I ain't with the FaceTiming/Lotta people rocking fake diamonds/Lotta people they be fake smiling, when behind your back they be hating on you."
Last but not least is Oakland's finest Kamaiyah, who closes out the cypher in a major way with hard-hitting bars like, "You don't know who I am but I'm a fucking star/And I don't come out unless I bring a entourage/I been out on the scene, been stunting hard/Lifestyles of the rich, this ain't no mirage/Like Nicki Minaj said, 'I don't want no frauds'/East Coast, West Coast, we the coldest broad," Kamaiyah spits.
Watch the latest XXL Freshman Cypher below and let us know what you think.