Dave Chappelle Talks with Kendrick Lamar for Interview Magazine
Posted on July 14th, 2017
by Shawn Grant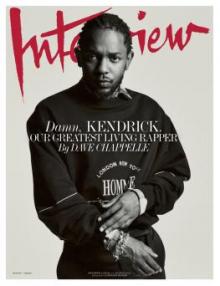 Two icons of their field, Kendrick Lamar, and Dave Chappelle sat down with Interview magazine. Conducted by the latter, K. Dot spoke on staying true to himself, a trip to South Africa and more.
Lamar's music has traveled the world and brought him in front of thousands of fans, but his experience in South Africa really hit home for the Compton emcee. "Durban, Cape Town, Johannesburg—and those were definitely the 'I've arrived' shows. Outside of the money, the success, the accolades … This is a place that we, in urban communities, never dream of," Kendrick shared. "We never dream of Africa. Like, 'Damn, this is the motherland.' You feel it as soon as you touch down. That moment changed my whole perspective on how to convey my art."
Kendrick Lamar also spoke on his development as an artist and what it means for his craft.
"As I've grown as an artist, I've learned that my mission statement is really self-expression," says Kendrick, "I don't want anybody to classify my music. I want them to say, 'This is somebody who's recognizing his true feelings, his true emotions, ideas, thoughts, opinions, and views on the world, all on one record.'"
Check out the full interview to see what else the two rising legends discussed here.