B.o.B. Gets Ready for 'The Elements Tour'
Posted on April 19th, 2017
by Breanna Chi'anne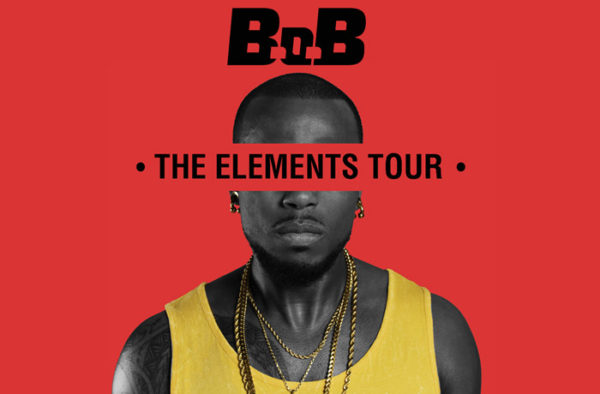 B.o.B.'s new album, ETHER, has him geared up for a new tour.
The party is planned to kick off June 8th. Hooligans Music Hall in Jacksonville, NC is the place to be to catch the "Lit" artist (pun intended). It's clear Bobby's got some big plans for the summer, so fingers crossed for a special visit by Ty Dolla $ign or T.I. to perform their hit collab, "4 Lit."
Make sure you find your city tour dates.
The Elements Tour Dates
June 8 – Jacksonville, NC – Hooligans Music Hall
June 9 – Leesburg, VA – Tally Ho Theatre
June 10 – Pittsburgh, PA – Diesel
June 11 – Amityville, NY – Revolution
June 12 – New York, NY – BB King's
June 15 – Kalamazoo, MI – Wild Bull Saloon
June 16 – Indianapolis, IN – The Vogue
June 18 – Columbus, OH – Alrosa Villa
June 21 – Traverse City, MI – Ground Zero
June 22 – Arlington Heights, IL – House of Music & Ent.
June 23 – Minneapolis, MN – LX MPLS
June 24 – Green Bay, WI – Sandlot Ent. Complex
June 25 – Des Moines, IA – Val Air Ballroom
June 26 – Kansas City, MO – Riot Room
June 27 – Denver, CO – Roxy Theatre
June 28 – Greely, CO – Moxi Theatre
June 29 – Bozeman, MT – Mixers Saloon
July 1 – Tacoma, WA – Cultura Event Center
July 3 – Seattle, WA – Nectar Lounge
July 4 – Vancouver, BC – Alexander Gastown
July 6 – Bend, OR – Motown Ballroom
July 7 – Eugene, OR – HIFI Music Hall
July 8 – Oakland, CA – Complex Oakland
July 9 – Los Angeles, CA – Los Globos
July 11 – Mesa, AZ – Club Red
July 13 – Lubbock, TX – Cactus Courtyard
July 14 – Dallas, TX – Gas Monkey Live!
July 15 – Corpus Christi, TX – Concrete St Amphitheatre
July 16 – San Angelo, TX – Bill Aylor Sr. Riverstage
July 19 – Austin, TX – Givens Park
July 20 – Jackson, MS – Lucky's
July 21 – Pensacola, FL – Vinyl Hall
July 22 – Miami, FL – Sidebar
July 27 – Myrtle Beach, SC – Senor Frogs