Chance The Rapper Covers GQ's February Issue
Posted on January 11th, 2017
by Breanna Chi'anne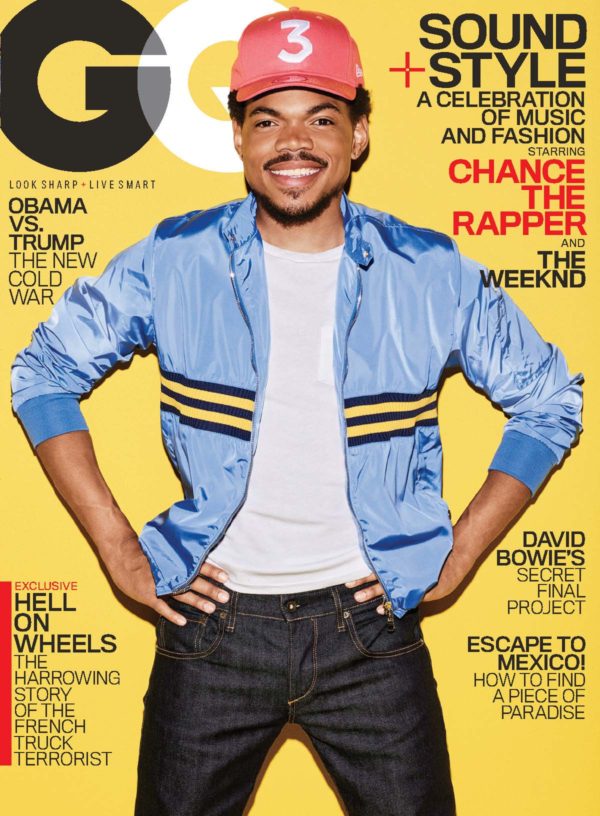 GQ is off to a promising start for the new year with their new cover stars for February.
While fans await The Weeknd's article to come out, everyone can enjoy Chance the Rapper's. Chance sat with the notorious publication to divulge what's been going on in his artistic world. He spoke on everything from the presidential election to life as an independent artist who "goes broke a lot." One thing he made sure to recognize was the musical influence he found in Kanye West.
Throughout Coloring Book, there's a constant reminder of the love Chaino has for Yeezy. He admitted to GQ that though he didn't want to "be like Kanye,":
"I think I definitely want to, have always wanted to, have his boldness or assurance in myself. But I've definitely seen Kanye do things where I was like, 'I'd never do that' I've always been able to defend Kanye…I always wanted to be more a person that people enjoy. Somebody that will make you laugh. I'm talking about just my personality, not necessarily how my music sounds. Because I believe I'm a disrupter like Kanye in a lot of ways."
There's no hiding his admiration for Ye's artistic capabilities. However it's his father's humility that makes Chance aspire to be like him.
"My dad's the man. And I can't say that enough. He has always stuck up for people. And he's also always been a good dude. That's who I want to be. I'm okay if the story seems boring to people because I'm a good guy. I'm cool with that. I'd be cool with people remembering me as a good, boring dude. As long as people say good…"
Watch Chance's interview below and click here to get the full story and pics! Also make sure to look out for The Weeknd's story tomorrow, January 12th.